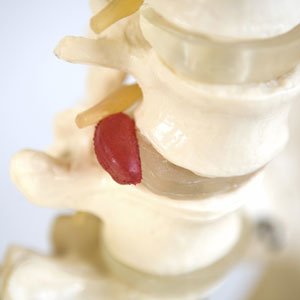 Spinal Decompression at
Ballas Chiropractic
Spinal injuries like herniated discs, sciatica and other back & neck conditions can be extremely painful. If the pain becomes debilitating, surgery may seem like the only way out. Thankfully, it's not!
When cervical spine injuries occur, pain can shoot out into the shoulders, arms, hands and fingers. Tingling sensations or numbness can also exhibit. Similarly, lumbar injuries can cause sciatic pain in the legs and feet.
Medication can give temporary relief, in some cases, but the pain always returns. Using spinal decompression therapy, in addition to chiropractic care, can provide longer lasting relief.
When discs are injured, they can bulge out and put pressure on nearby nerves. Herniated discs can also narrow the vertebral spacing causing nerves to be pinched. Both conditions are extremely painful. Restoring the proper spacing between vertebrae relieves stress on the nerve.
Spinal Decompression releases the tension between the vertebrae using a specially designed traction table. It's a gentle way to treat debilitating pain caused by cervical and/or lumbar spine injuries.
You might be a candidate for spinal decompression if you have any of these conditions:

Herniated or bulging discs
Nerve damage
Degenerative disc disease
Facet syndrome
Spinal stenosis
Failed back surgery
Sciatica
Back, neck or arm pain
Prior to starting, the doctor determines the weight of the machine's pull. Taking the patient's physical stature along with severity of their condition into consideration, the traction machine is set. With the patient strapped in position, the traction pulls and releases, creating a pressure change in the disc.
This negative pressure creates a vacuum which can aid the bulges or herniations to be imbibed back into position. Fluids, containing nutrients and oxygen, are naturally drawn back to the disc as well. Promoting healing, they re-hydrate and help regenerate the disc. Once everything has moved back into place, pain is relieved.
Book Your Appointment Today
Spinal Decompression therapy can relieve your pain, get your discs back in place and start your healing process. Contact us for your free consultation and let's discuss how we can help you achieve better health.
CONTACT US

Spinal Decompression in Huntersville NC | (704) 896-8080