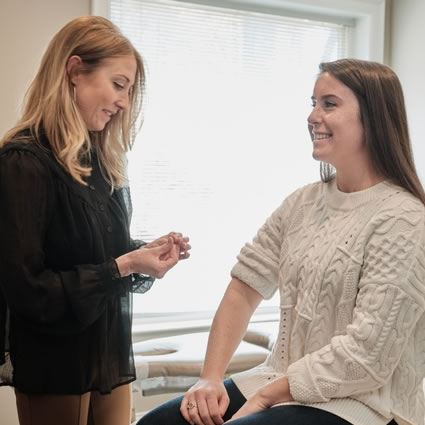 Ballas Chiropractic Reviews
What Our Huntersville Patients Say
At Ballas Chiropractic we love when patients share with us their feedback and comments after chiropractic care. Please read our patient testimonials below to see what other people have achieved through their tailored treatment plans with us.
Share your stories too! Click here to send us your feedback so that we can help to spread the word about the benefits of natural Ballas Chiropractic care.
For more information, or to schedule an appointment contact us today.


They Truly Listen
I hesitated for years going to a chiropractor. When I wasn't getting relief from my regular doctor for a back injury, I finally went to Ballas Chiropractic. They truly listened to me, did xrays, and explained what was actually causing all my pain. They immediately set up a six week treatment program. After a couple visits, I already have improved movement. I still have a way to go, but I no longer am skeptical about chiropractors. At least not with this group of professionals at Ballas Chiropractic. Thank you!
– Betty M.
Has Been A Godsend!
This practice has been a Godsend to me. I have disc problems and have suffered for years, so chiropractic is a must in my life. I was traveling a lot further for a flexion distraction table until I realized there was an office right in Huntersville with one!
Dr. Tyler has been the most awesome Chiropractor, but I have seen all the doctors there and they are wonderful!! The staff are professional and friendly, I have never had a single problem. I have been to 2 other offices in the area and this one beats them all hands down. Neal also does excellent work. They all treat me like a person and not just another patient. When you're in pain, a friendly smile and a listening ear make all the difference, and the care is excellent.
– Erin D.
Highly Recommend
We had Calahan on two different types of inhalers along with a daily oral medication. There have been several times he has been hospitalized for over a week. We started taking Calahan to Dr. Ballas for regular adjustments and he was put on some natural supplements. We have completely stopped the oral medication and daily inhaler, and he very rarely uses his rescue inhaler. His breathing has improved, he has more energy and he feels better all around. Calahan looks forward to his adjustments because he knows: 'Dr. Ballas will make me feel better!' We highly recommend Ballas Chiropractic to anyone with asthma-related problems. It has done wonders for us!
– Calahan's Mom
Migraine Relief
I have been suffering from the nightmare of debilitating migraine headaches for over 50 years. During this time, I have traveled throughout the United States and Canada trying every known medication, supplement and treatment for the incapacitating pain. For a period of 4 months prior to being treated by Dr. Ballas, I had been experiencing 4-6 migraines per month. After only 3 treatments of adjustments and acupuncture from Dr. Ballas, my migraines stopped. Dr Ballas has succeeded in accomplishing a miracle that I have been searching 50 years for.
– Pam O.
First Chiropractic Experience
Ballas Chiropractic was my first chiropractic experience. The staff gave me the personal attention I needed to make me feel comfortable and the therapist educated me about each step that would be taken to address my lower back issues. I was even trained on how to properly stretch my back at home. This training was specific to my personal needs as it related to my lower back issues. The physicians were friendly, informative, and professional. No questions too small or too big to discuss with them; they welcome them.
Let Ballas Chiropractic be your first chiropractic experience!
– Regina W.
Feeling so Much Better
I was having pain in my tailbone and my regular doctor just said that there was nothing he could do and 'sometimes you just get pain and you have to learn how to live with it. They didn't even take an x-ray to see if there was a problem. I had been suffering from this condition for about 6 months. Every time I had to go somewhere that I had to sit (like a haircut) I was in too much pain afterwards that I didn't want to go anywhere that I had to sit down for a while.
I heard about Dr. Ballas from my sister. My whole thinking is being changed because I see the true benefit that chiropractic care has helped me in feeling so much better! I will come to Dr. Ballas and Dr. Slabaugh way before I go to my general doctor. I tell everyone how great they are. Your body will thank you for coming to the knowledgeable doctors here at Ballas. I also feel so good after I leave that I tell anyone that they are the greatest. Very helpful to get to the bottom of any problem. Also, acupuncture is so good for the entire body.
– Rosemary C.
Neck and Shoulder Relief
I had major pain in my neck and shoulders and also in my lower back. Dr. Ballas and his staff paid very close attention to the problem areas. I have been involved in several car accidents, but the last accident occurred on May 4th of this year. The injuries I sustained aggravated prior injuries. I heard of Ballas Chiropractic through a friend who had been given care. I would like to take this time to thank Dr. Ballas and staff for being patient and taking the time to make sure my quality of life and health improved.
– Bernard C.
Alleviated Migraines
Prior to coming to Ballas Chiropractic I had received multiple referrals to pain management clinics for cervical steroid injections, MRI's, physical therapy treatments, carpal tunnel surgery, steroid injections in my elbow, massage therapy and multiple prescriptions for pain and migraine medications which provided little relief.
Chiropractic adjustments of my neck have alleviated my migraine headaches (I am no longer taking my prescription) and my TMJ. Acupuncture treatments have reduced the constant "buzzing" from an over-stimulated nervous system (due to Fibromyalgia.)
Fibromyalgia symptoms had impacted my daily life to the point of avoiding lights, noises, people or situations that would increase pain. My energy, concentration, digestion, and weight have all improved with acupuncture and chiropractic adjustments.
For someone just beginning chiropractic care I would offer this advice: Keep an open mind. You will see some immediate results, but the major improvements will appear over time. Don't give up after the first few improvements, as the best appear later!
After years of suffering pain (but not knowing why) followed by a diagnosis of Fibromyalgia (a misunderstood condition) it is a relief to FINALLY have results without the side effects of prescription drugs.
– Jane R.
Sciatic Relief
I was having severe back and radiating leg pain from a prior back surgery. My sciatic nerve was being compressed and was extremely inflamed. The pain was so crippling, I was unable to sit down or lie down. I was unable to get any relief at all.
I initially had to go to the hospital to get relief from the pain. Then I had an MRI done and two epidural nerve blocks over the course of about a month. I had to take narcotic pain medicine which wasn't even helpful when my pain was at its worst. And, that just covers up pain-it doesn't help to repair the problem. I wanted to heal!
Ballas Chiropractic was recommended to me by someone at Physician's Plan; and I had found their website. I was a bit skeptical at first due to the severity of my pain and from what my orthopedic doctors were telling me about my situation. I was at my wits end with the pain. I had immediate and tremendous results from my treatments. Ballas Chiropractic have been phenomenal in treating and rehabilitating me.
I was unable to carry a gallon of water when I first went to Ballas due to my back pain. I walked with a cane and a limp. Now, I'm pain free and have returned to a normal schedule, but am much more careful!
To someone who has just begun chiropractic care, I would offer the advice: to be open-minded to the treatment and to be consistent and vigilant with the recommendations given. And to be patient! Sometimes the results are not as quick as we would like them to be.
I am extremely grateful to have found Ballas Chiropractic. The doctors and the entire staff go out of their way and do whatever they can to assist in my care. It is evident from their large number of patients what a great job they do. They have been phenomenal in their care of me. I have referred them to several friends, and tell everyone how instrumental they were in my healing. Thank you, thank you!
– Sally J.
Pain Relief
When I came to Ballas Chiropractic I was in a lot of pain and not able to perform basic tasks around the house. I am now able to do those tasks plus even more than before my lower back pain started. I appreciate being greeted by name instead of the "1 o'clock appointment" by the entire office staff. I am thrilled that my program included an adjustment, therapy and massages all under one roof. The value of paying for one Doctor but getting the professional services of three is a real bonus. But the best part of the program, after I agreed to following the Doctors' plan prescribed especially for me, is the absence of pain, the increase in the quality of my life and the instructions on how to stay healthy. I would unconditionally recommend Ballas Chiropractic to anyone looking for a professional, caring and well run wellness center.
– Jason B.
Shoulder and Foot Pain Relief
I came into Ballas Chiropractic with a shoulder problem and a foot problem. I am so grateful for the relief my treatments brought. My shoulder is so much better and my feet are like new compared to six months ago. I can do so many activities now. The Rehab Therapist, Neal, is amazing. I have followed his advice on exercises and feel incredible. The entire staff has been wonderful!!! To the doctors: you are all amazing! Thank you so much for improving my life. I tell as many people that I can who are in pain about your practice.
– Becky F.

Ballas Chiropractic Reviews | (704) 896-8080