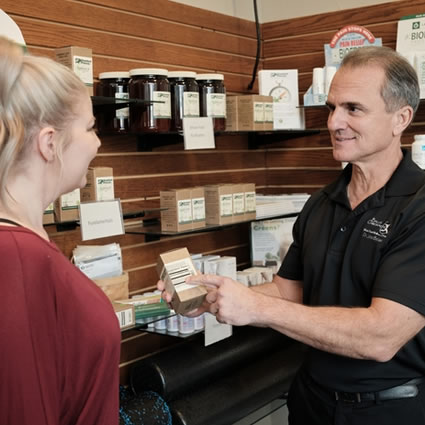 Nutritional Counseling
at Ballas Chiropractic
Nutrition counseling is the foundation of good health. There's so much incorrect, misleading and, frankly, false information available. It's hard to know what to think or who to trust. Most people make choices based on a friend's experience or a celebrity endorsement.
Everyone's body chemistry is unique to them; what works for one, won't necessarily work for you. That's why having a conversation with a nutritional counselor should be your first step. Establishing where you are at now and where you need to be are crucial to beginning any plan.
Food is medicine. A healthy diet can benefit your energy levels, longevity and wellbeing. Our bodies have the ability to adapt to changes in our environment and our food. Nutritional counseling helps you to work with this process of adaptability. Accepting and maintaining a healthier diet is easy with a coach on your side.
So many nutritional theories are available; your Doctor helps you find the plan that works best for you. Identifying problem areas and finding alternatives help you achieve the success you've been looking to achieve.
When you come into the practice, we sit down and have a discussion with the patient to find out what's going on. This is more than just food; it covers any areas of concern that may be impacted by poor dietary habits. Health issues such as diabetes or hormonal imbalances, digestive issues, migraines; all can be linked to bad nutrition.
Current nutritional intake is the first step. We take a full medical history, look at blood work and assess your wellness level. Food diaries and medications are factored into the counselor's recommendations. Generally, we recommend the Paleo diet as part of your plan.
Part of your plan may include supplements. We work with two companies:
Standard Process, a certified organic company that has phenomenal whole food supplements
Xymogen, which only sells to practitioners.
It's important to us that our patients are provided with the best products available.
We teach our patients to keep away from anything that causes inflammation. Inflammation is the start of dis-ease; when kept away, the body can be at-ease.
Think of your new nutritional plan as a supplement on the journey to better health. Results might not be immediate but, if you stick with it, and follow your counselor's advice, the change will be dramatic.
We try to address the problem on our own, with temporary success. The weight comes off but usually comes right back on. Working with a nutritional counselor helps you come up with a plan that works now and keeps working for the future.
Making nutritional changes can make an impact in several areas:
Obesity – it's no surprise to anyone that we have an obesity problem in America. All you have to do is look around you. Combining our sedentary lifestyle with unhealthy foods is a recipe for poor health.
Diabetes – the incidence of diabetes is climbing rapidly. Addictions to sugar-filled drinks, sugary desserts and processed foods have overloaded our bodies. Unable to handle these huge amounts of sugar, our body slips into a diabetic state. A good dietary plan can tackle this challenge and satisfy your sweet tooth as well.
Heart disease – a healthy heart leads to a healthy life. Long-term consequences of a poor diet can damage your heart and keep you from living the life you desire. Counseling can educate you on the foods to avoid for continued heart health.
Allergies and Asthma – allergies are more common every day. Allergic reactions cause inflammation in the body which can block your airways. A healthy non-inflammatory diet helps you breathe better and takes the stress off your heart and body.
Cancer – studies have shown that some foods are effective at reducing the risk of various types of cancer. Why not give your body the best chance of avoiding this disease?
Other benefits from nutritional counseling include better sleep, more focus at work, less moodiness and fewer bouts of depression.
Learn More Today
Nutrition plays a large part in your health and wellness. Working with our nutritional counselor can make a difference in your success. Come in and let's discuss how it will help you on your journey to better health. Contact us for an appointment today.
CONTACT US

Nutrition in Huntersville NC | (704) 896-8080